Richard Tyrrell has managed the design, build and refurbishment of swimming pools for over 50 years. After all this time, and with over 100 pools of distinction under his belt, you might think he would be looking for a quiet relaxing life away from it all. Not a bit of it – you only have to spend 10 minutes in his company to see that he is still passionately enthusiastic about pools and the industry he's been a part of for so long. He is old-fashioned enough to believe in delivering an outstanding product at a fair price, but also fully up-to-date with the latest fashions, developments and technology.
Here's a pool in the Talbot Woods area of Bournemouth that Richard completed in 1995
Two owners later, RT Swimming Pool Services continues to service and maintain this pool
Over the years, there is not much Richard hasn't seen and done when it comes to pools. His ability to solve all manner of problems and answer any questions has earned him the affectionate nickname of the 'Pool Doctor' amongst his customers and rightly so.
At RT Swimming Pool Services we work with trusted construction partners to deliver the swimming pools you dream of. Richard will be by your side throughout the journey. He will listen to your ideas and work with you to design a pool and surround that is both practical and achieves your aspirations. Richard will go through everything in fine detail, provide ideas and suggestions, and explain benefits and drawbacks so that you can make informed choices. He will oversee the project from start to finish and will always be on hand to direct operations and answer any questions that arise.
Below are three pool builds completed between 2018 to 2020, each very different in design and challenge as Richard explains:
Pool Build 1
'This 28' x 14' x 4' constant water depth liner pool was constructed in a natural hollow in an otherwise flat lawn area.'
'Once the site was cleared, we used hollow concrete block reinforced construction for the pool walls, incorporated LED underwater lighting and a full pattern liner with tile band, and bullnosed coping stones to finish. The equipment included a high-rate sand filtration system and air source heat pump. The surround area and walls were formed of inert filled reinforced concrete to create a sunken-effect patio for sunbathing and relaxation.'
Pool Build 2
'A customer of many years' standing approached us to design and build a small fun pool for their enjoyment in retirement.'

'After removing the clay soil, the pool was built with hollow reinforced block construction with special sub-floor drainage and external pump point to deal with ground water. The pool was site lined in a sand colour which, as planned, gives a nice turquoise colour to the water. The first step semi circle is lined with a special non-slip material.'
'The equipment included a sand filtration and step inverter air source heat pump. The pool surround is finished in Indian sandstone paving, laid on a concrete sub-base with bespoke bullnosed coping stones which were hand-finished to blend with the paving and the lovely natural gardens'.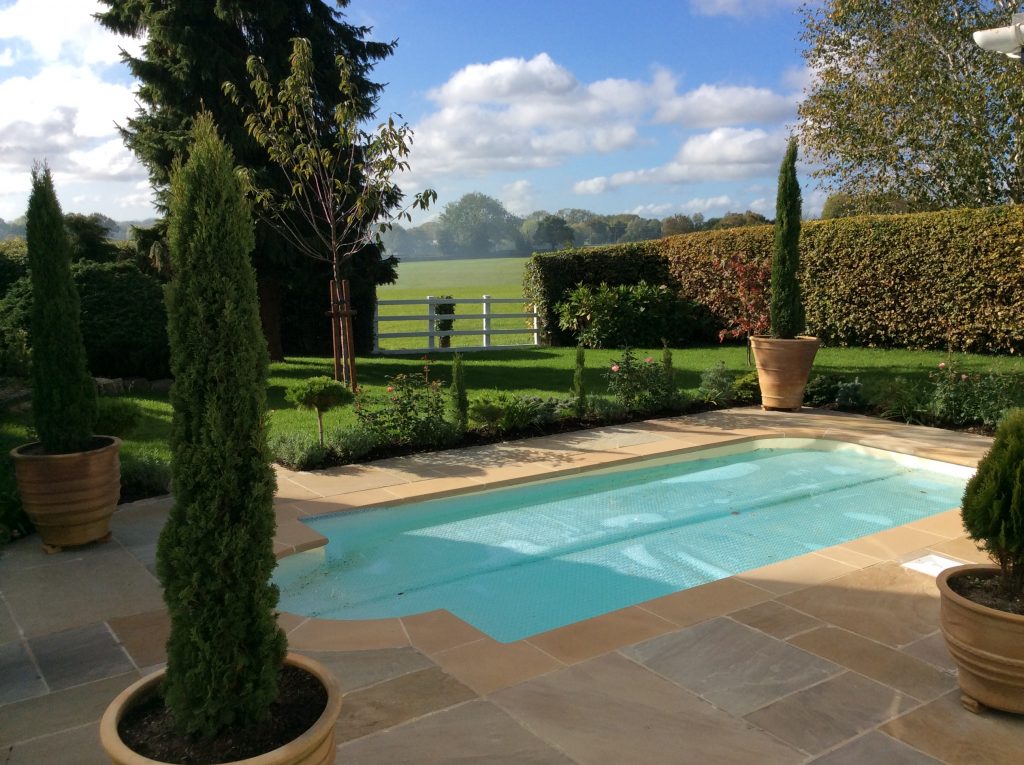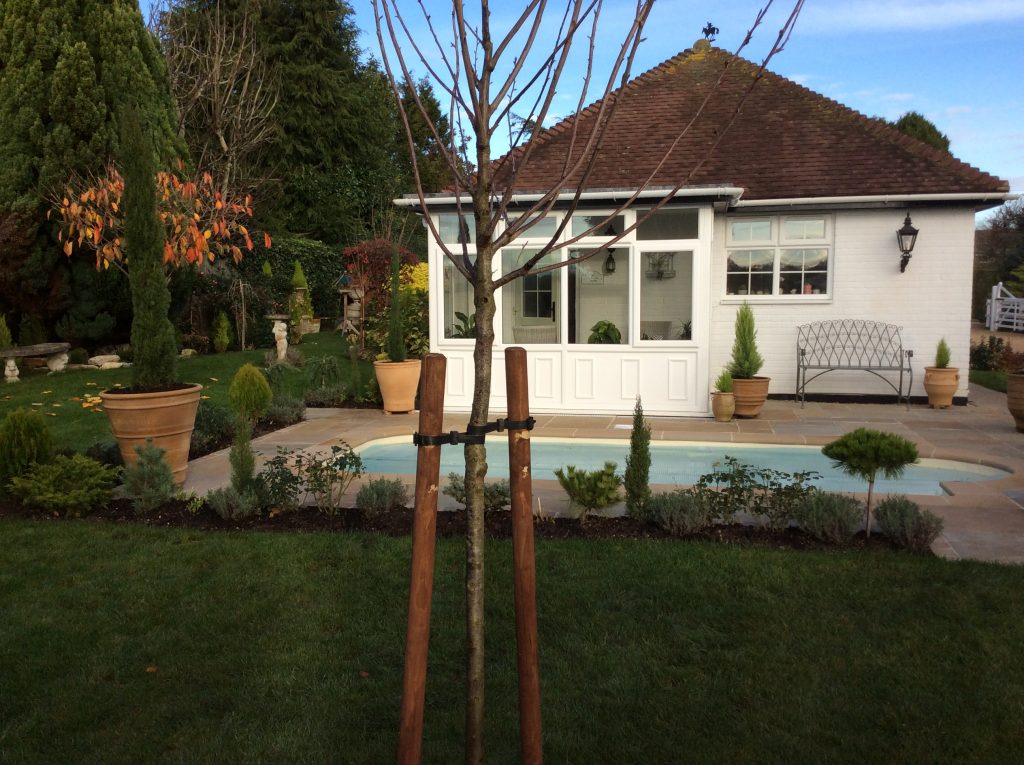 Pool Build 3
'We were delighted when an existing customer asked us to design and build a high-specification swimming pool as part of a substantial remodelling project on the Dorset coast.'

'Once the existing house had been demolished and many hours of hard work had been put in by the groundworkers to clear the site and garden and establish new levels for us, we started work. The groundworkers had solid clay conditions to work with and during the clearance work encountered many tonnes of buried reinforced concrete which had to be broken up and removed.
'Phase One of our work was completed prior to the erection of the new house and included the installation of a full drainage system under the pool area, building of the pool walls and patio retaining walls in reinforced hollow block construction. Block and beam covered the spaces in between. The walls were rendered and the self-draining floor screeded in preparation for final installation.'
'We then vacated the site to allow for the new house to be built, before returning to site to finish off what I am sure you will agree is a very impressive, top-of-the-range pool.'
'The pool itself features four mini stainless-steel LED underwater lights, Touch embossed on-site lining, with full-width access steps. The top step forms the pit which houses the polycarbonate solar slatted automatic pool cover. Removable boards over the pit provide access for maintenance. The cover motor is situated within the roller and the key operated system can be programmed to set the cover at each end to the required position.'

'The filtration system incorporates a special water-cooled pool pump, which acts to reduce noise levels as the plant room is situated in a room inside the house.  Heating is provided by a full inverter air source heat pump, with an inline electric heater for back up use in the winter, should the owners wish to make use of the pool over Christmas and New Year. A quantum water treatment unit was installed which takes UV sanitisation to the highest level with a chlorine tablet feeder installed for back up.'
'The pool surrounds and walkways are finished in ceramic tiling and with the sweeping lawns and exotic trees make for a breathtaking sight.'
Pool Refurbishment
Richard relishes a challenge and we think you'll agree he was faced with just that when we were asked to refurbish this very old painted concrete pool that the previous owners built. It was literally falling apart, with structural cracks in the walls and floor, render cracked and hollow in many places and uneven from the floor upwards.
Did Richard run and head for the hills? Not a bit of it!
'We set about removing all the old loose paint, cracked and loose render. We repaired the cracks and replaced the damaged render, built corner access steps in the shallow end, re-screeded the floor to a new level to allow for the inclusion of a new sump and main drain. New inlets and skimmers were installed together with new replacement pipework to the plant room. Finally, a new top level was formed ready to finish off the pool.'

'In order to prevent further structural movement, we constructed a reinforced concrete perimeter beam, from which we joined three reinforced concrete anchor points up into the lawn area with deep reinforced concrete pads set into the ground to prevent any sideways movement of the shell as it is situated on the side of a steep slope to the lower garden.'
'Liner lock was securely fitted to the perimeter and a 30 thou full-pattern tailor-made liner fitted and finished off with white reconstituted stone bullnosed handgrip coping stones. The old filtration was scrapped and a new top mounted multiport high-rate sand filtration system installed on a new concrete floor in the plant room. A full inverter air source pump was fitted in an adjacent outside area. Finally, a 400 Micron Geobubble solar insulation cover and roller assembly were fitted.'
Following completion of your new build or refurbishment, should you wish, Richard and the team at RT Swimming Pool Services can continue to keep your pool and equipment in top condition for your safe enjoyment and exercise. Richard is very proud to say that RT Swimming Pool Services still maintains and services a number of pools which he designed and built many decades previously.
For more information please contact Richard on:
07956 790720
richard@rtswimmingpoolservices.com
alternatively you could fill out the contact form and one of the team will be in touch: